Learn MS office and automate the manual office work with most powerful tools. Learn essential skills that is required in every office.
Course Duration: 30 hours  |  Mode: Online  |  Timing: Flexible (Weekdays & Weekends)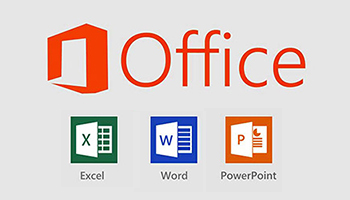 Useful excel formulas.
Important shortcuts and time saving tools
How to design a powerful presentation.
Real time examples.
Creating reports, documentation, templates etc.
Anyone looking for a job
Designers
Students
Working Professionals
Software Developer
Programmer
MS Office Course Description
MS Office is Microsoft's desktop and cloud productivity suite. It's available as a stand alone desktop package. Many organizations and professionals use all of the programs in the MS Office Suite on a daily basis, which makes Office incredibly popular. MS office is a package containing Word, Excel, PowerPoint, Access, OneNote, Outlook. MS office is also available online. It can save your valuable time. It is most powerful and easy to use the tool a system can have. Anyone can learn MS office easily. MS office is such a powerful software that it can be used for almost all office works.
Microsoft Word is the most popular word processor, It is an indispensable tool for most computer users, And you can create the documents and complete a number of other functions related to word processing. Another part is Excel and Excel spreadsheets are commonly used across the business to display financial information and other data relevant to the running of the business. Microsoft Excel allows you to manipulate, manage and analyze data using thousands of functions. PowerPoint is regarded as the most useful, accessible way to create and present visual aids. PowerPoint is a quick and easy way to organize ideas and information. It is easy to create colorful, attractive designs using the standard templates and themes, easy to modify compared to other visual aids, such as charts, and easy to drag and drop slides to re-order presentation.
MS Office Course Curriculum
Introduction to MS word
Where and who use MS word
Different Templates
Editing tool
Copy, Cut, Paste options
Font editing and effects
Text alignment
Borders
Style text
Find and replace
page break
Insert blank page
Insert and Draw Table
Customizing  Table
Insert Picture in document
Modifying Pictures
Different shapes
SmartArt
Different type of charts
Links
Comments
Header and footer in word
Text box
Date and time
Objects
Equation and Symbols
Different Themes
Watermark
Page layout
Margin
Orientation
Size
Column
Indent
Spacing
Align
Table of content
Insert endnote
Citation
Bibliography
Table of figures
Cross reference
Creating email
Envelopes
Labels
Recipient list
Insert Merge field
Grammer check
Thesaurus
Translate
Comments
Track change
Different layout view
Arrange and split
Macros
Introduction to MS Excel
Use of MS Excel
Different Templates
Sheets in Excel
Cell in Excel
Different paste option in Excel
Merge text with different options
Conditional formatting
Table format
DifferentCell style
Insert Cell, Sheet, Row, Column
Delete Cell, Sheet, Row, Column
Adjusting height and width of cell
Clear formatting
Sort and filter
Find and replace
Insert Pivot table
Recommended Pivot tables
Table in Excel
Insert pictures and picture tool
Insert shapes and SmartArt
Different charts
Win/Loss
Slicer
Hyperlinks
Text box
Header and Footer
Themes, Margin, Size
Print Area
Background
Print Titles
Gridlines and Headlines
Arrangement of Objects
Sum, Average, Count, Max, Min Formulas
Logical Formulas
Different Text Formulas
Maths and Trigonometry
Lookup and references
Date and Time
Information
Define names
Trace Precedents
Evaluate Formulas
Calculation options
Fetch data from The Web
Text to Columns
Remove duplicates
Data validation
Consolidate
Group and Ungroup
Solver
Spelling checker
Comments
Formula bar
Freeze Panes
Macros
Introduction to MS PowerPoint
Different Templates
How to add a Slide
Layout of slides
Add Section
Remove and modify section
Add different symbols to slide
Shape effects
Find and replace
Insert table in slide
Add a picture in a slide
Photo album
SmartArt
Different type of charts
Comment
Header and Footer
WordArt
Date and Time
Objects
Equations
Add Audio and Video in a slide
Different Themes
Slide size
Applying Transition to slide
Different types of transition
Sound in slide
Duration
Adding Animation to slide
Entrance effects
Emphasis
Exit effects
Reorder animation
Play slides
Custom Slideshow
Setup slideshow
Record slideshow
Spelling check
Translate
Different views of slideshow
 Slide Master
Handout Master
Notes Master
Arrange windows
Macros
Different presenter options