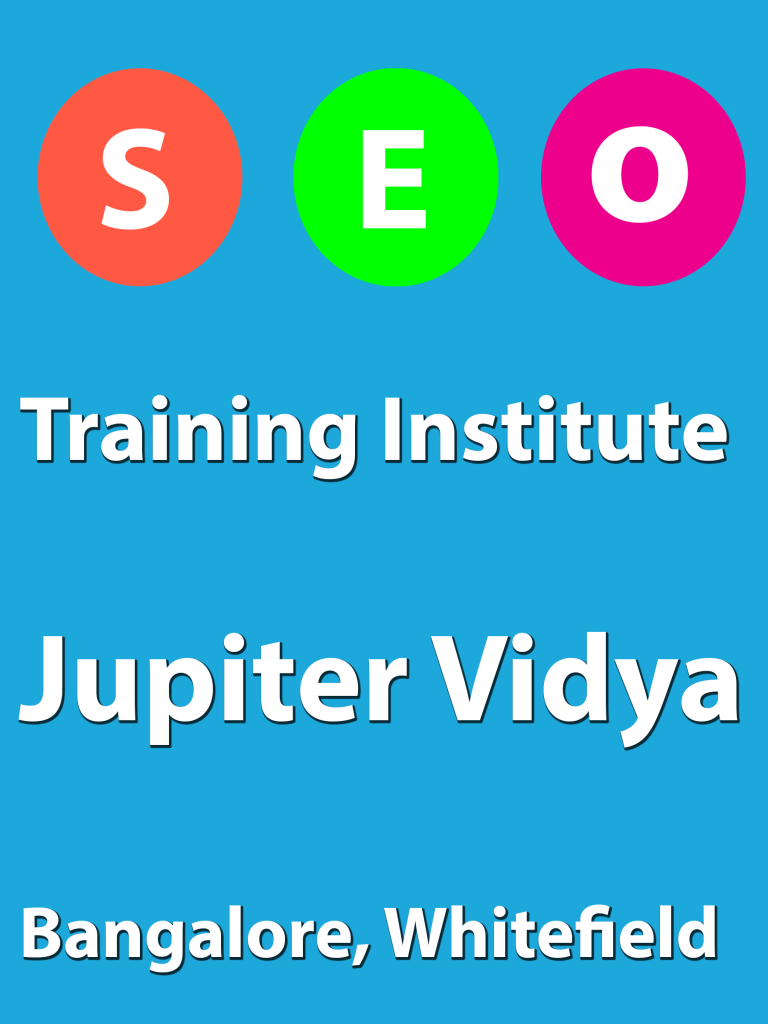 We at Jupiter Vidya which offers SEO training course in Bangalore provide the best-in-class and online SEO training.
Since online business is very much booming, in the process of getting the website on the first page on every search engine like Google, Yahoo, Bing and so on has become very crucial.
Why you need SEO?
Every business has become online and expect  to have maximum popularity and visibility, but the internet has grown rapidly and competition is getting tougher optimizing the website has become a prerequisite. To attain this we go for SEO.
What is SEO?
SEO stands for Search Engine Optimization.
Search engine optimization (SEO) is the process of affecting the visibility of a website or a web page in a search engine's "natural" or un-paid ("organic") search results.
SEO targets different kinds of search which include images search, videos search, news search and many more.
SEO is divided into two parts-
1)On-Page SEO – On-page search engine optimization describes components which impact your Website as well as Website checklist inside natural listings. Most of these components are manipulated simply by an individual as well as simply by code in your site. Types of on-page search engine optimization include actual Code, meta tag words, keyword placement in addition to keyword density.
2)Off-Page SEO-Off-page optimization means factors that have an impact on Internet site or Website listing in organic search. These factors are generally off-site since they are certainly not managed through a person or this HTML coding on the page. Examples of off-page optimization contain issues such as link building, social media marketing, etc
Why join Jupiter Vidya(SEO Training Course In Bangalore)?
We provide the top SEO Training Course In Bangalore. Which is an online course as well as in-class training.We teach SEO(Search Engine Optimization) techniques in deep which includes On-Page and Off-Page Optimization, Google Tools, latest SEO tools and techniques.Faculties at Jupiter Vidya have considerable expertise in SEO.We assist in placement of our students and help them whenever required.We have class room training as well as online training. Online training is done using SKYPE / TeamViewer / Google Hangout.We give hands-on practical knowledge
To know more about SEO,  join Jupiter Vidya and find your website at the topmost ranked level in all search engines.
We provide classroom & online training (Weekdays, Weekend, Fast Track) with placements.
Courses at Jupiter Vidya: Digital Marketing, Web Designing, WordPress, Search Engine Optimization (SEO), Data Structures, Graphic Design, Responsive Web Design, Search Engine Marketing (SEM), HTML, HTML5, CSS, CSS3, JavaScript, jQuery, PHP, Symfony Framework, Laravel Framework, Adobe Photoshop, Adobe Illustrator, C language, C++ language, Core Java, Advance Java & Bootstrap.
Note: We also provide Website development and SEO service.
CONTACT PERSON: Nidhi
Mobile: +91 8123867849
Telephone : +91-80-40913013
Address: Jupiter Vidya, 2nd Floor, Thimmaiah Complex, Immadihalli Main Road, Near Syndicate Bank, Whitefield, Bangalore-560066
Website: Jupiter Vidya