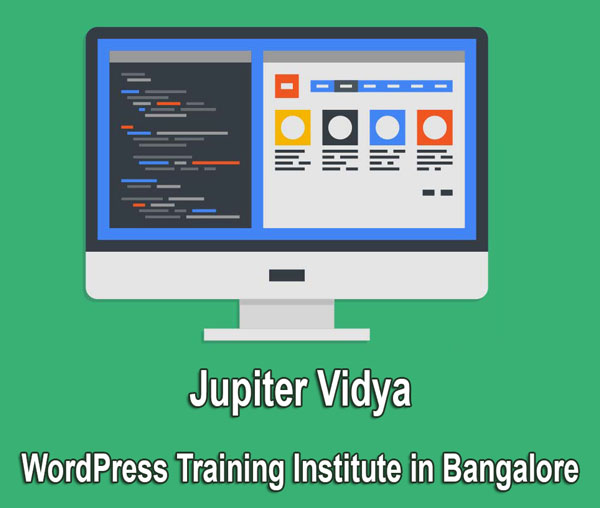 WordPress, a free and open-source blogging tool and content management system, is so popular among the Web developers, it almost feels like a buzzword. However, statistics say WordPress is here to stay.
WordPress is dominating the market, literally. WordPress is a Web phenomenon. It powers a gazillion blogs and almost as many websites. As a technology, it's unique in that the learning curve is not too steep, but there is a vast amount to learn and understand.
What that means is that web designers need to understand WordPress, and almost as importantly, they need to be able to explain it to their clients. Our institute is best WordPress Institute in Bangalore.
The best way to get ahead in this game is to find the right teacher. That's why were delighted that our Jupiter Vidya Institute, has arranged this tremendous discount on a set of all tutorials that will get you up to speed on WordPress in just a few hours!
WordPress makes it easy to update website content without knowing HTML. This lowers maintenance costs and the need to wait while a webmaster makes changes to your site.
if you are looking for WordPress training institute in Bangalore, then you are at right place. Jupiter Vidya is the best institute for WordPress in Bangalore. We provide best WordPress training course. We cover all topics in WordPress. Our students say that Jupiter Vidya is the best place to learn WordPress. We also provide WordPress training classes online. So come & join us WordPress Institute in Bangalore.
We provide classroom & online training (Weekdays, Weekend, Fast Track) with placements.
Courses at Jupiter Vidya: Digital Marketing, Web Designing, Moodle, WordPress, Search Engine Optimization (SEO), Data Structures, Graphic Design, Responsive Web Design, Search Engine Marketing (SEM), HTML, HTML5, CSS, CSS3, JavaScript, jQuery, AngularJS, PHP, Laravel Framework, Adobe Photoshop, Adobe Illustrator, C language, C++ language, Core Java, Advance Java & Bootstrap.
Note: We also provide Website development and SEO service.
CONTACT PERSON: Nidhi
Mobile: +91 8123867849
Telephone : +91-80-40913013
Address: Jupiter Vidya, 2nd Floor, Thimmaiah Complex, Immadihalli Main Road, Near Syndicate Bank, Whitefield, Bangalore-560066
Website: Jupiter Vidya