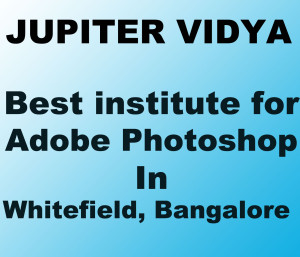 Adobe Photoshop is a graphics editing program developed and published by Adobe Systems.Just about every creative digital project has Photoshop CC at its core. The worlds most advanced image editing app lets you enhance, retouch, and manipulate photographs and other images in any way you can imagine. And because its part of creative cloud you can save, share and access your work from anywhere all with just a few clicks.
Contents:
1) Introduction
2) Workspace
3) Understanding and opening images
4) Color and tonal adjustments
5) Retouching and transforming
6) Selecting and masking
7) Layers
8) Painting
9) Drawing
10) Filters
11) Type
12) Saving and exporting images
13) Printing
14) Web graphics
15) Keyboard shortcuts
Why Jupiter Vidya for Adobe Photoshop?
Best institute for Photoshop in Whitefield Bangalore
Top place to learn Photoshop in Bangalore
Learn Photoshop in Bangalore from an expert
We provide classroom & online training (Weekdays, Weekend, Fast Track) with placements.
Courses at Jupiter Vidya: Digital Marketing, Web Designing, WordPress, Search Engine Optimization (SEO), Data Structures, Graphic Design, Responsive Web Design, Search Engine Marketing (SEM), HTML, HTML5, CSS, CSS3, JavaScript, jQuery, PHP, Adobe Dreamweaver, Adobe Photoshop, Adobe Illustrator, C language, C++ language, Core Java, Advance Java & Bootstrap.
Note: We also provide Website development and SEO service.
CONTACT PERSON: Nidhi
Mobile: +91 8123867849
Telephone : +91-80-40913013
Address: Jupiter Vidya, 2nd Floor, Thimmaiah Complex, Immadihalli Main Road, Near Syndicate Bank, Whitefield, Bangalore-560066
Website: Jupiter Vidya