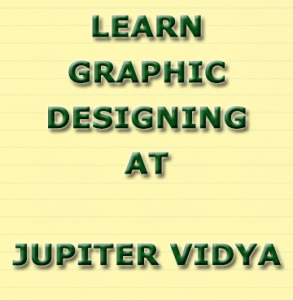 We offer the incomparable graphic design course in Bangalore merging creativity and academics equally. We teach Adobe Photoshop, Adobe Illustrator, Adobe Flash and CorelDraw as part of the graphics design training classes at Jupiter Vidya. The syllabus for the graphics designing course has been well-structured to include theory as well as practical assignments. The training is imparted by mature faculty people who will be well-versed in the style design space. As a graphic designer, you would be working towards the creation of logos, posters, brochures, visiting cards and such other print media related products. Jupiter Vidya provides best Graphic Designing training in Bangalore.
Common uses of graphic design include identity (logos and branding), publications (magazines, newspapers, and books), print advertisements, posters, billboards, website graphics and elements, signs and product packaging. For example, a product package might include a logo or other artwork, organized text and pure design elements such as images, shapes, and color which unify the piece. The composition is one of the most important features of graphic design, especially when using pre-existing materials or diverse elements. We are one of the top graphic designing training institutes in Bangalore. Graphic design is the art of communication, stylizing, and problem-solving through the use of type, space, and image.
We provide classroom & online training (Weekdays, Weekend, Fast Track) with placements.
Courses at Jupiter Vidya: Digital Marketing, Web Designing, WordPress, Search Engine Optimization (SEO), AutoCAD, Data Structures, Graphic Design, Responsive Web Design, Search Engine Marketing (SEM), HTML, HTML5, CSS, CSS3, JavaScript, jQuery, PHP, Symfony Framework, Laravel Framework,  Adobe Photoshop, Adobe Illustrator, C language, C++ language, Core Java, Advance Java, Bootstrap & CorelDRAW.
Note: We also provide Website development and SEO service.
CONTACT PERSON: Nidhi
Mobile: +91 8123867849
Telephone : +91-80-40913013
Address: Jupiter Vidya, 2nd Floor, Thimmaiah Complex, Immadihalli Main Road, Near Syndicate Bank, Whitefield, Bangalore-560066
Website: Jupiter Vidya