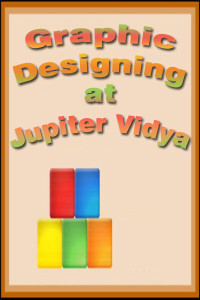 Jupiter Vidya is the best Graphic designing institute in Bangalore.
Graphic design is the methodology of visual communication and problem-solving through the use of type, space, and image. Graphic designers use various methods to create and combine words, symbols, and images to create a visual representation of ideas and messages. A graphic designer may use a combination of typography, visual arts, nd page layout techniques to produce a final result.
Graphic designing is used to make logos, visiting cards, creation of posters, brochures, banners, leaflets, magazines, newsletters and hoardings for advertisements and product designing,
We at Jupiter Vidya which is the best Graphic designing institute in bangalore teach Adobe Photoshop, Adobe Illustrator and CorelDraw as part of the graphics design training classes at Jupiter Vidya.We teach technical and design skills needed to create interactive applications.
We offer the best graphic design in Bangalore by combining creativity and academics equally.We make your dreams materialize into visual reality by assisting in placements giving you the new career avenue.At Jupiter Vidya students will gain real-time exposure to industry demands of creativity and the business challenges of graphic designs.We have classroom training as well as online training.We provide online training through Skype.Our Skype id is jupitervidya.We have highly trained faculties and provide hands on experience.Once trained in Jupiter Vidya you fly out as a best graphic designer.
We provide classroom & online training (Weekdays, Weekend, Fast Track) with placements.
Courses offered : Digital Marketing, Web Designing, Graphic Designing, WordPress, Search Engine Optimization (SEO), AutoCAD, Data Structures, Search Engine Marketing (SEM), HTML, HTML5, CSS, CSS3, JavaScript, jQuery, PHP, Symfony Framework, Laravel Framework, Adobe Photoshop, Adobe Illustrator, C language, C++ language, Core Java, Advance Java and Bootstrap.
Note: We also provide Website development and SEO service.

CONTACT PERSON: Nidhi
Mobile: +91 8123867849
Telephone : +91-80-40913013
Address: Jupiter Vidya, 2nd Floor, Thimmaiah Complex, Immadihalli Main Road, Near Syndicate Bank, Whitefield, Bangalore-560066
Website: Jupiter Vidya