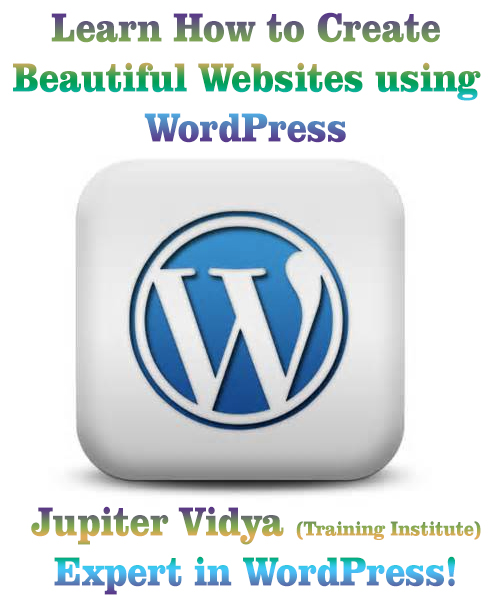 Jupiter Vidya is one of the best WordPress Training Centers in Bangalore. We provide training on WordPress and help students to build their website while teaching WordPress.
WordPress is a free and open-source blogging tool and a content management system (CMS) based on PHP and MySQL. WordPress was started in 2003 using a single bit of code to enhance the typography of day by day writing with less no of users. Since then WordPress is the most popular largest self-hosted blogging tool used on the web in the world. It's used on millions of websites and viewed by tens of millions of people every day. WordPress is an Open Source Project, the license which means it can be used for free without a pay license fee. WordPress was started just as a blogging system, but now it has evolved to be used as a full content management system. WordPress uses themes, plugins, and widgets. There is an unlimited number of benefits you get by learning WordPress.Most of the top bloggers in the world use WordPress as their Content Management System which shows the power of WordPress.
Jupiter Vidya is one of the best WordPress Training Centers in Bangalore. Once you are trained in WordPress in JupiterVidya you get placed in Web Developing Firms as we assist in Placements also, along with that you can also develop your own online business. WordPress knowledge has become the prerequisite for web developers, designers and corporate firms are expecting WordPress knowledge in PHP developers. So join us to get more expertise in WordPress. We give classroom training and online training. We teach designing, security, SEO, and e-commerce site development in WordPress classes.
Jupiter Vidya has been successful in training 15000+ students and we are proud to say that all of them are prospering in their job.  Our tutors extend who are highly experienced in their field and give all possible case studies to deal with practically which is of great assistance when they go in the industry environment. We not only train but give personal attention to each student. Moreover, we keep our batch size smaller enough to focus individually. Jupiter Vidya has stood out itself in the list IT institutes because of the above specialty and proved to be the best WordPress training institutes centers in Whitefield, Bangalore.
We provide classroom & online training (Weekdays, Weekend, Fast Track) with placements.
Courses at Jupiter Vidya: Python Programming, C language, C++ language, Core Java, Advance Java, Web Designing, Data Structures, Search Engine Optimization (SEO), WordPress, HTML, JavaScript, jQuery, Adobe Photoshop, Adobe Illustrator, Graphic Design, Digital Marketing.
CONTACT PERSON: Nidhi
Mobile: +91 8123867849 or +91 7483939492
Telephone : +91-80-40913013
Address: Jupiter Vidya, 2nd Floor, Thimmaiah Complex, Immadihalli Main Road, Near Syndicate Bank, Whitefield, Bangalore-560066
Website: Jupiter Vidya