Photoshop Classes In Bangalore
We provide best Photoshop classes in Bangalore.Adobe Photoshop is the most capable software amongst other application around. If you are working on photographs Adobe Photoshop is the best software we can use. No other programs will give the same result. Adobe Photoshop is the best image editing tool with many features. We can edit an image to make it a transparent background image. We can resize image according to our need. You can add more than one image to make some professional looking designs.  We can manipulate photos like remove spots, blemishes, play with different colors, create masks to make them professional looking photos.
Advantage Of Photoshop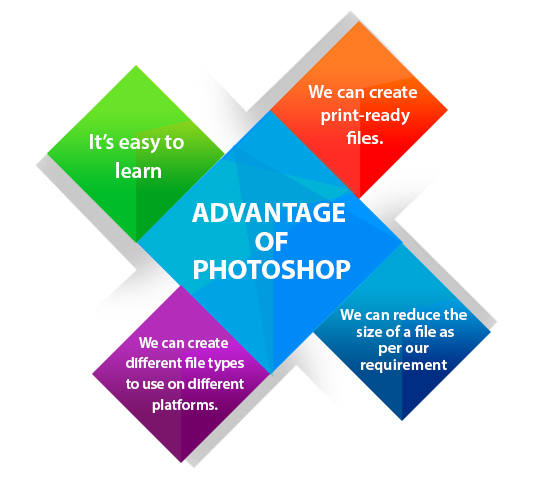 What you will learn in this course
If we do any course we want to know what we will learn Here you will learn how you can edit, manipulate, resize, create a mask and add other effects to photos in Adobe Photoshop. You can just change the look of an image with a professional touch. Our expert trainers will teach you how to create layers for web pages. In this course, you will learn how you can use photoshop for creating web page layers, making a transparent background for the images, manipulating photos, creating attractive promotional banners, adding more than one image for creating professional header designs and creating many other graphics for your pages. Adobe Photoshop skills are highly in demand.
The benefits of this course
You will become a professional graphic designer.
You will be able to create professional looking web pages, promotional banners, headers, infographics and many other graphic works.
You will know how to make a transparent background of an image.
You can manipulate images to make it look attractive.
You will become Industry-Ready Professional and you can crack interview easily.
Why choose Jupiter Vidya?
We are the best institute in Whitefield for photoshop training.
We provide training in a way you are comfortable with.
We schedule classes at the time that best suite you.
We provide best Photoshop training course. We cover all topics in Photoshop. Our students say that Jupiter Vidya is the best place to learn Photoshop. We also provide Photoshop training classes online.
We provide classroom & online training (Weekdays, Weekend, Fast Track) with placements.
Courses at Jupiter Vidya: Digital Marketing, Web Designing, WordPress, Python Programming,  Search Engine Optimization (SEO), Data Structures, Graphic Designing, HTML5, CSS3, JavaScript, jQuery, PHP, Symfony Framework, Adobe Photoshop, Adobe Illustrator, C language, C++ language, Core Java, Advance Java, and Angular framework.
Note: We also provide Website development and Digital Marketing services.
Contact Person: Nidhi
Mobile: +91 8123867849
Telephone : +91-80-40913013
Address: Jupiter Vidya, 2nd Floor, Thimmaiah Complex, Immadihalli Main Road, Near Syndicate Bank, Whitefield, Bangalore-560066